Real Estate Marketing
We have the biggest experience in real estate marketing in Northern Poland. Therefore, our offer is a unique proposition of the housing sale support, proven by reliable analysis and excellent sales results.
Since 2001 as Avocado Advertising Group we have developed efficient marketing strategies and services. So far, more than 1400 companies were professionally served by Avocado. Within the last 10 years, we have developed our service on real estate market sales with a total value of over PLN 6 billion.
We specialize in:
elaborating and implanting marketing strategies in the B2B and B2C area,
fulfilling multi-channeled advertising campaigns
intensive, short-term sales actions
long-term sale support
creating an image of the company and the product consistently
Chosen projects
TPS Reapolis • 2018
Raising the sale effects by 600% in 3 months, without increasing the budget significantly through modifying the marketing communication and media, concluding the target insight analysis.
ROBYG SA • 2009 – 2019
Launching the brand in the Tri-City real estate market and cooperation on reaching the position of Polish industry leader; increasing the value of shares more than doubled by intensified marketing activities (achieving 1st place in Poland by highest sale volume). Image goals efficient implementation.
DEO Plaza • 2017
Naming, branding, and launching one of the most prestigious development investments to the market (hotels, apart-hotels, apartments, and service premises) on Gdansk Granary Island.
Yacht Park (PHN) • 2015 – 2019
Naming, ID creating and new media support unique real estate with yacht marina, located on the Gdynia pier, directed mainly to the investment target.
Saint-Gobain • 2014
Elaboration and realization of an international event promoting the Multi-Comfort system in the prototype hybrid house.
We implement promotional and strategic operations, introducing their products to the market, increasing sales results, and creating strong brands.
We form a group of experienced strategists, analysts, marketers, graphics, webmasters, copywriters, illustrators.
Help customers find you
To help customers learn about your offer, we will create attractive materials and place them in the most visible places. Promotion on industry portals, billboards at relevant points of the city, attractive stands at fairs can be useful, and high-performance online advertisement.
Also, the investment page with details and contact details. Depending on which customer group you want to reach, we will consider whether Instagram or radio advertising will be more effective in reaching them. Do you have questions about developer marketing? Write to us, phone or visit us at the office in the Tri-City.
Tel: +48 58 660 31 87
Mail: biuro@avocado.pl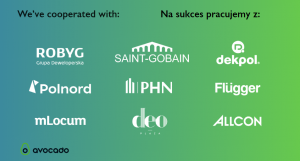 Skontaktuj się z nami